The older I get, the better I am at recognizing my faults when interacting with others. That doesn't mean I'm good at correcting my faults. That doesn't even mean I necessarily WANT to correct my faults. I'm just saying that in recent years I have developed an ability I didn't have before that allows me to analyze a situation (usually after the fact) and figure out where I was the culprit or the instigator. I'm not yet to the point of feeling as though I was 'wrong' very often but who knows what my 40's might bring?
So, in my experience, the three areas of my life that seem to be magnets for the most conflict are as follows: Social Media (duh), Driving, Youth Sports…not necessarily in that order. I've already blogged about conflict while driving at least once (maybe more times than that?…dammit, memory, would you just WORK again?) so I won't address that too much here. And one day, probably AFTER Dennis Yamnitsky's memorial service, I will probably write up something about my social media experiences. But for today…today let's dive into the wonderful world that is the sideline of a youth sporting event.
How many different people do you think have cast an F-bomb in my direction while watching my kids' sports in the last 3 years? If you said 3 you're probably low but those are the only ones I have actually HEARD because they were very very apparent and direct and LOUD. Unce, tice, fee tines an eff you.
Before I dive into Episode I of the "Eff You Sports Dad" (actually it turns out I already did Episode 1 and completely forgot about it because I write so infrequently! Episode II will be forthcoming) series let me back up to my very first sports confrontation as a dad. It was so long ago now that I'm sure the other parent was found in a gutter with a needle hanging out of her arm and that the kid involved was long ago sentenced to life in the state pen. That's right, this was about 7 years ago when my oldest was playing 6 year old soccer.
What's great is that I was the assistant coach to Bobby Dickerman who is like the most positive, upbeat dude you could ever want to meet and have your kids play sports for. High fives all around. I sat next to him at the Positive Coaches Alliance seminar a few weeks back and he could have been teaching the class. To me it was like a foreign language (hash tag kidding not kidding…did I do that right?).
Bobby Dickerman - How could you not love playing sports for this guy???
Well, one day Bobby couldn't make the game which made me the head coach and we were playing against a team that had a bully kid on it. Even at 6 years old there was one completely undisciplined kid (we will call him Shtunk) who just shoved the other boys over, gave not one but two craps about 'rules', called names, cussed at our players and didn't talk back at his mom (the assistant coach of their team…we'll call her Shtink) so much as YELL back at her when she occasionally attempted to correct him. In my harsh blogger-speak it was obvious this kid had no father-figure.
So there was a rule at this age that was kind of unique. There were little pop-up goals but there were no goalies. To keep kids from guarding the goal (goalie style) there was a coned-off area about three feet in front of each goal in which neither team was allowed to kick the ball. This way if the ball was rolling in, it would roll in. This was not a rule that Shtunk cared about. As I said, for this one game Bobby wasn't there to be the good guy and my frustration, if you were watching me and not the game, was visible on the sideline. Shtunk kept kicking the ball out of the no-touch zone (thereby taking goals away from our players) and was truly unteachable. And Shtink, as I said, was their assistant coach…and their head coach was missing on top of everything so she was also in charge. Every time I became frustrated Shtink had some sarcastic remark for me…she took it upon herself to strain to hear what I was saying to myself and project it across the field for all to hear. It was clear that the Shtunk apple was leaning right up against that Shtink tree…a real Shtunk off the ole' block. I did my best to ignore her but did come back with things like "you have to teach him the rules…all the other kids are playing by them." Anything I was going to say to her at that point was going to be taken negatively so that's about all I offered.
Well, the next time we played against that team (a few weeks later) both our head coaches were back. Their coach was the kind of guy you would see driving around with metal testicles hanging off the back of his truck…you know the guy. He's brawny and unshaven and walks real shouldery and loves NASCAR. And he came in with a major chip on that shouldery walk. Why? Because Shtink had been chirping in his ear about me, that's why. And it was evident all the parents had been riled up too because they were loud and it was all directed at me. Whatever. I'm a big boy. I rise to adversity. I drive a Toyota Prius.
So Shtunk did the same thing he always did a couple times in the game. I can't remember how it was handled. But then, in the second half, it happened. One of our better players saw the other team take a shot and he just started sprinting. He caught up to the ball just short of the goal and slid and kicked the ball away. Total rule violation. First time I'd seen anyone on our team do that intentionally all year. I'm sure I hung my head. And this is what was amazing…the entire side of the field…all of their parent section just lost it! "OOOOOoooohhhhh…THAT's AGAINST THE RULES!" "CHEATER" it was loud. They'd been waiting all game for it. I took a few steps toward them and yelled "That's a goal! It counts as a goal." I mean they're pissed at me (thanks to Shtink) and now they're trying to belittle this really good natured 6 year old on our team. Well, the testicle truck guy's wife, who I actually went to high school with, wouldn't let it go. Yelling. Yelling. She's in crazy good shape and muscular and looked and acted roided up…it was literally just like having Jillian Michaels go off the rails nuts at you. Finally I just said loudly while pantomiming like I was talking to a little kid "If you (pointing at them) can't cheer (making an exaggerated slow, silent clapping motion) for your (pointing to them) kid (pointing to the kid who just scored the goal) when he scores a goal (pointing to the goal) then I can't help you (animatedly shrugged my shoulders while shaking my head condescendingly)." Then I clapped toward the kid and told him "nice goal, kid!" because nobody else was gonna do it.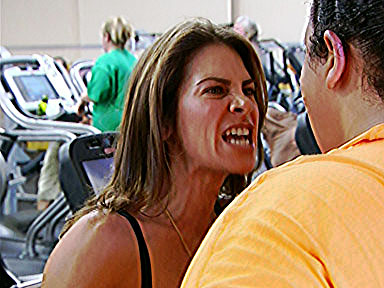 Terrifying
After the game the kids did the handshake thing or high five or whatever. Their coach didn't participate. I walked up to him to clear the air. What was great about this is that Shtink was over on the sideline yelling at Bobby to go break this up because (loudly) "they're gonna fight! They're gonna fight!". It was nuts. I just went over and talked man to man with the guy about where the conflict originated and how I thought this obnoxious woman on the sideline was just an instigator, agitator, perpetuator, alligator?, and escalator of conflict. I remember saying matter of factly "I don't have a conflict with you" kind of pulling from Martin Blank's "there is no us"' conversation in Grosse Pointe Blank. I addressed the rule that I had been concerned about and gave him my concerns about the way the Shtink had played, shook the man's hand and walked away. That was it. We never played them again. I couldn't recognize any of them if I saw them now. And I've grown up a lot since then…or have I?
I guess you'll have to wait for next time when things get crazy at 7th grade soccer.